Kaunia College, Kaunia, Rangpur.
Kaunia College. All over the Rangpur District, top hard with secured and rich education providing collage is Kaunia collage.
This Kaunia College show you that: Education is called the backbone of a nation. Education is the light, without education there is no way to live properly in this world. Being born as a human does not make you a true human being. People need to acquire knowledge to become proper people. And to acquire this knowledge education is needed. Education or knowledge is the only wealth in the world that is as precious as life. The place of education is more important in human life. Without education, progress in individual and national life is impossible.
Kaunia College, Kaunia, Rangpur.
Kaunia College. The role of Kaunia people was unforgettable in every struggle for Bengali nation's self-pride.
Similarly, the struggle for education was also a direct participation of the people of Kaunia. Education enlightens the people, education shows the light to the nation, keeping this dream in the heart, bringing the light of education to the homes of the people of Kaunia area and making the future generation of the area well-educated in modern knowledge and science education and making them good citizens, and the great vow to build a science-minded nation by dispelling the darkness in the minds of the people of the area. On the beautiful afternoon of April 16, 1972 in the hall room of Kaunia High School, there was a gathering of students from all walks of life in Kaunia.
Highlighting most basic Information of Kaunia College at a Glance.
FAQ
Answer
Real Name:
Real Name: Kaunia Collage.
Nickname:
1. Kaunia Degree Collage,

2. Kaunia boyes collage.

College EIIN:
127357.
College Code:
3212
College Type:
Non-Government.
Number of Buildings:
06.
Number of the Teachers:
080.
Number of the Work employees:
030.
Number of the student:
3500.
Address:
Kaunia-5440, Rangpur, Bangladesh.
Old Principal's Name:
MD ABDUS SAMAD.
Present principal's Name:
Md Farooq Azam.
Collage contact number:
01750356356.
Today's Kaunia College is the sign of that great union of those days. Kaunia College started on July 1, 1972 with the recognition of Rajshahi Education Board. And in 1984, Kaunia College was completed by the recognition of undergraduate course by Rajshahi University. The college was named as "Kaunia College" as this college was established by the efforts of all the people of Kaunia.
Highlighting the Nickname of the Kaunia College.
1. Kaunia College.
2. Kaunia Degree college.
3. Kaunia sub-government college.
4. Kaunia college, Rangpur.
5. Kaunia Collage.
Accurate Location of Kaunia College.
"Kaunia College" is located in Kaunia Upazila at the side of Kharsrota Teesta River. The college is established in the center of Kaunia Upazila in a very pleasant environment with the great vow of spreading the light of education among the poverty-stricken people of the backward towns of the river basin. The traditional Kaunia Railway Junction is near the college. The highway to Rangpur, Kurigram and Road land port Burimari passes by the College.
The beautiful beauty of nature has given the college a wonderful form of Glory. Kaunia students and philanthropists donated 4.19 acres of land to establish Kaunia College. Presently Kaunia College consists of 7.80 acres of land. Kaunia Degree College is located in Balapara Union of Kaunia Upazila.
Teachers and students of Kaunia College.
The aim depends of every educational institution is in a Educated Teacher. Only a educated teacher can build a well-educated state. The relation of guru-disciple in the past is no more today. The relationship has become very easy and smooth. Today a teacher is a friend, guide, counselor and information provider to students. There was never such a sweet relationship between master and disciple. A harmonious and deep relationship between teacher and student is the key to fruitful higher education.
Likewise, the relationship between all the teachers and students of Kaunia College is also good. Presently the principal of Kaunia College is Md Farooq Azam. The college also has 80 teachers and about 30 employees. There are about 3,500 students.
Rules and Regulations of kaunia College(2023).
A child is admitted to Kaunia College for the purpose of getting good education. A student's stay in an educational institution as a student is short-term. 2 years for some, 3 years for some and 4 years for some. During this short stay, the students are encouraged and motivated to make the best and maximum use of the existing facilities of the college. However, getting a good education is the result of the combined efforts of students, teachers, parents and guardians.
In the classroom, in the library and above all, the teachers provide encouragement and inspiration and guidance to the students. Apart from regular teaching in the class, the teachers also sincerely help the students in those subjects where the students are weak or have problems in formulating answers to the questions.
Subjects affiliated to Kaunia College.
Kaunia College first started in 1972 with higher secondary education level. Then the higher secondary level was under the Rajshahi Education Board. After this, in 1984, Rajshahi University's undergraduate course was started. Currently Kaunia College has higher secondary, degree and honors courses, so it is also called Kaunia Degree College. 20 percent people know Kaunia College as Kaunia Degree College.
Kaunia College has 3 departments at higher secondary level.
Compulsory subjects in each department are: Bengali, English, Information and Communication Technology.
1. Science Department:
A. Chemistry, Physics,
B. Biological Sciences,
C. Higher Mathematics,
D. Engineering Drawing and Workshop Practice.
2. Humanities:
A. History or Islamic History and Culture,
B. Economics,
C. Urban Policy and Governance,
D. Social Science,
E. Geography, Logic,
F. Islamic Education,
G. Psychology,
H. Agriculture,
I. Domestic Science.
3. Department of Business:
A. Business Organization and Management,
B. Accountancy,
C. Production Management and Marketing,
D. Statistics,
E. Agricultural Education.
Kaunia College has 4 Branches into the Degree Course.
Compulsory subjects in each branch are:
A. History of development of independent Bangladesh,
B. Bengali national language,
C. English.
1. BA Pass Courses:
A. History,
B. History and Culture of Islam,
C. Philosophy,
D. Geography and Environment,
E. Economics,
F. Social Science,
G. Political Science,
H. Psychology, Statistics.
2. BSS Pass Courses:
A. Economics,
B. Social Science,
C. Political Science,
D. Psychology,
E. Geography and Environment,
F. History,
G. Islamic History and Culture,
H. Philosophy.
3. B.Sc Pass Courses:
A. Physics,
B. Mathematics,
C. Chemistry,
D. Geography and Environment,
E. Psychology,
F. Statistics,
G. Botany,
H. Zoology.
4. BBS Pass Courses:
A. Accountancy,
B. Management,
C. Economics,
D. Statistics.
Honors Course consists of 3 Honors Courses.
1. BA Honors Course:
A. Bengali,
B. English,
C. History and Culture of Islam.
2. BSS Honors Courses:
A. Economics,
B. Social Science,
C. Political Science.
3. BBS Honors Course:
A. Accountancy,
B. Management.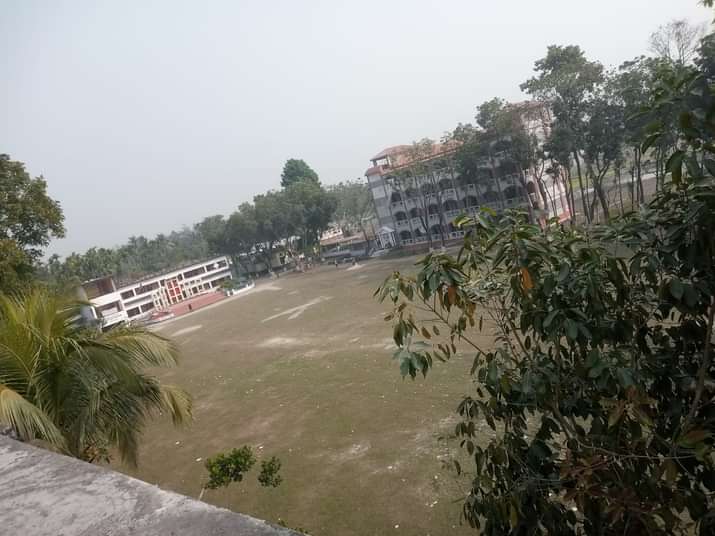 Advantages of Kaunia College:
Kaunia College offers various facilities for every student besides getting institutional education. The college has its own 1 dormitory and 1 student residence adjacent to the college for residential facilities of distant students. The college has its own canteen for faculty, staff and students to eat during college hours. Also there is a mosque in the college campus for offering prayers during the college. The college has a bicycle garage. There is a beautifully landscaped garden and a huge Shahid Minar.
Apart from these, there is also a library for reading text books as well as developing the habit of reading various books. Based on the library, the reading habits of the students are developed, the enthusiasm for learning increases, and the talent is developed. By reading the books of their choice in the library, the students become well-educated and self-educated. The college library also has a classroom adjacent to the library for the convenience of students to study in a quiet environment.
The present age is the age of science, the age of computer revolution. Developed countries have reached the pinnacle of development in a very short time by using information and communication technology through computers. A boy or a girl will never be unemployed if he can make himself proficient in computers. A modern computer education program has been introduced at Kaunia College with the aim of creating up-to-date skilled human children in the neglected and poverty stricken Kaunia area, which is plagued by river erosion.
As important as the role of the science laboratory is for the expansion and improvement of science education, excellence in science education is achieved through direct hands-on learning in the laboratory. And that is why Kaunia College is committed to developing skilled human resources and improving the quality of science education by encouraging students to do research in the fields of Information and Communication Technology, Physical Science, Chemistry, Mathematics, Botany, Zoology, Psychology, Statistics, Agricultural Education, Geography. , highly advanced and rich practical laboratories have been introduced separately for engineering drawing and workshop practice.
Achievements of Kaunia College(First to End):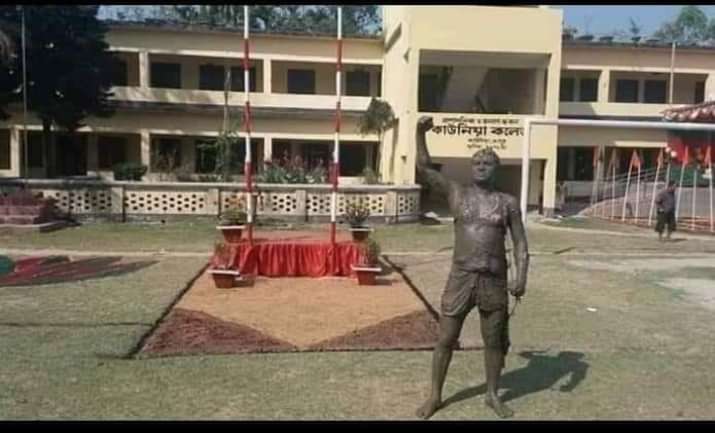 Since its inception, in spite of various limitations, Kaunia College has kept the light of knowledge burning in exchange of many sacrifices and efforts, and has fulfilled the noble responsibility of enlightening the people of this poverty-stricken town with the light of knowledge by continuing to spread education at the grass root level and is still doing so. Kaunia College has achieved the outstanding honor of being selected as the best educational institution at the national level in 2001 as a reflection of fulfilling the noble responsibility of enlightening the people of the river erosion-affected, poverty-stricken and backward towns with the light of knowledge by continuously lighting the light of knowledge. Likewise, the then Government of Bangladesh also got the rare honor of receiving a memento and award from the Honorable Prime Minister Sheikh Hasina.
Programs and Culture of Kaunia College:
In order to develop all students as good human beings, various programs are conducted in every educational institution in addition to textbooks to develop physical and mental growth, intelligence and creativity of students. Likewise, Kaunia Degree College also participates in various activities supporting the education of the college including co-educational activities. In order to develop the physical and mental growth of the students of Kaunya College, with the aim of developing intellectual thinking, creativity, the students are regularly made to practice diverse art techniques related to sports and physical exercise.
Besides, annual sports, cultural, debate and quiz competitions, dramas, seminars, annual milad, puja various co-curricular activities are conducted regularly. Apart from these, various national days, New Years, Spring Festivals are celebrated with due dignity.
Apart from these, Kaunia College has compulsory identity card and library card system, stipend for poor and meritorious students, financial assistance from college poor fund and sound system. Educational tours are also organized regularly to teach the students of Kaunia College by hand. The college has BNCC and Rover Scouts and Girl Guides to encourage human service.
Photo Gallery of the Kaunia College, Kaunia, Rangpur.