Haji Nanna Biryani: In 1962, Biyrani was invented by Haji Nanna Mia.
Haji Nanna Biryani commonly known as Nanna Biryani, Haji Nanna Biryani, Ancient Nanna Biryani, Haji Nanna Biryani Dhaka, Puran Dhakar Nanna Biryani etc. This Nanna's Biryani is now popular worldwide due to the delicious spices used in Biryani and the completely different cooking method. Biryani cooks have to be quite skilled and well-versed in cooking.
Special character of the Haji Nanna Biryani: Introduction.
Haji Nanna Biryani is better known as Nanna Biryani. It is the name of a biryani of 3 items that was invented in old Dhaka. It is now most popular United kingdom and Bangladesh. In 2023, most of the people are known about Nanna Biryani. Now it's have a lot of demand all over the world. Now, You can get delivery this Biryani easily by online store.
Nanna Biryani should be eaten hot. You can't enjoy its quality taste when it gets cold. Initially Haji Nanna Biryani consisted of special Chicken Polao but now it consists of 3 Biryani. Such as: Mutton Tehari, Kacchi Biryani, Special Chicken Polao.
Many shopkeepers claim that Haji Nanna and Nanna Biryani are two separate Biryani bands. But this Haji Nanna was only one person and he gave only one Shop. The meat used in their Biryani is quite soft and tasty. High quality Rice and Spices are used into this Biryani.
Note: But there is no place to park your private car in this shop. So use alternative vehicles before you arrive. Such as taxi or riska etc. But we are hopeful they will build a car park soon.
All 7 places are standard and there is no risk you can safely bring your friends or family. After cooking this biryani is useful to eat maximum 8 to 9 hours. Then it was destroyed. So even if you save this biryani for a temporary period, check it well before eating it.
Making Process of the Haji Nanna Biryani.
Haji Nanna Biryani is cooked with advanced and expensive Rice, Masala, different Flavors, Right heat and Right time. While eating this biryani you can feel the aroma of masala and enough flavor in your nose. It takes about 1 hour to make this Biryani and requires a skilled craftsman. Especially those who have been cooking for the past 40 to 45 years. Some secret spices are used in this Biryani. Abdullah is unwilling to reveal the name and production method of this spice. However, this biryani is cooked in a standard way. The only difference is the secret spices, improved rice and the right temperature.
Price and Online Delivery of the Haji Nanna Biryani all over the world.
We are presenting the list of main Haji Nanna Biryani with proof and shop. However, although the price of this biryani is fixed, it changes slightly due to the cost of transportation.
1. Mutton Kacchi Biyani Full Plate 3.80 Dollar and Half Plate 1.90 Dollar. 
2. Mutton Biryani Full Plate 3 dollar and Half Plate 1.50 Dollar.
3. Special Chicken Polao Full Plate 2.80 Dollar and Half Plate 1.40 Dollar. 
4. Laban drink 1 litre 1.40 Dollar and Half litre 0.70 Dollar. 
5. Borhani Drink Big size Bottle 1.20 Dollar and Half 0.60 Dollar. 
6. Phirni per pieces 0.30 Dollar. 
7. Mutton Tikka Kabab 0.30 Dollar.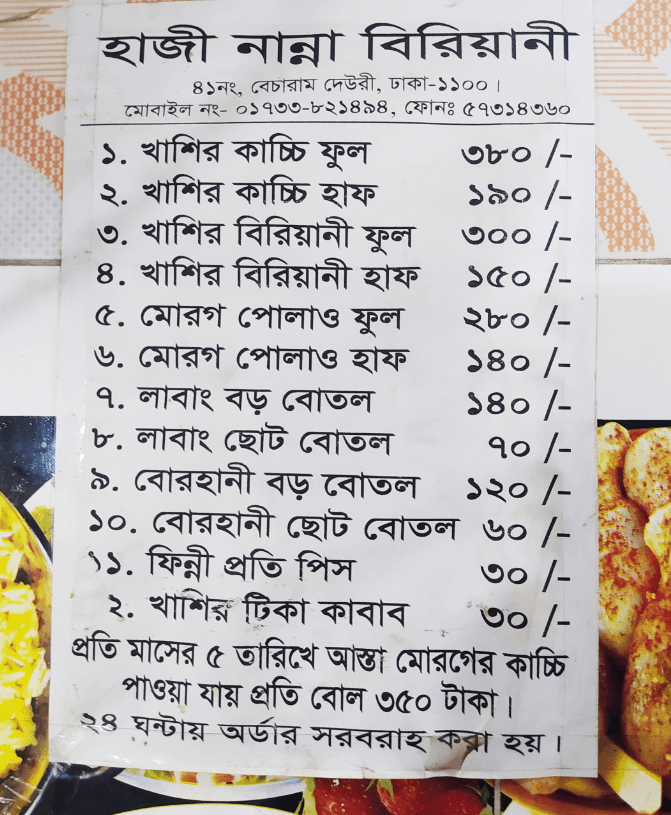 Their Laban drink and Borhani drink are quite delicious and standard. Besides this biryani these two drinks are popular now. Besides eating biryani, drinking these two drinks increases the taste of food and improves digestion. They make these two drinks by themselves, they don't buy them from anywhere.
Note: According to religious principles, there are many Hindus who do not eat beef. There is a separate table and separate biryani for them. So can enjoy safely.
History of the Haji Nanna Biryani.
In 1962, Haji Nanna Biryani was invented by Haji Nanna in Moulvibazar Dhaka With his brother Late Jummun Miya and Late Chan Miya. At first the shop was small in which they spread thin mats on the floor and sold chicken Biyani. They used to produce only 5 to 6 kg biryani a day and sell it throughout the day. At that time Biryani was not as popular as it is today. Now it's a strong popular into the people's mind.
The main branch of Nanna Biryani is now in Becharam Deuri, Dhaka. Haji Nanna's responsibility is now being performed by his brother's son Abdullah.
Haji Nanna died in 2005 and taught his brother's son Abdullah all the secrets of cooking. Then from 2005 until now, under the supervision of Abdullah, Nanna Biryani is being supplied all over the country.
Since 2005 until now Nanna Biryani chief director Abdullah has a total of seven legitimate branches across the country licensed and the rest are operating illegally.
Popularity and Demand of the Haji Nanna Biryani all over the world.
The popularity of the Haji Nanna Biryani is high into the Bangladesh, United kingdom, United Arab Emirates, Donkey Kong Country, India and United states of America etc. But day by day this popularity of Biryani going to be high and getting lot of demand per day(online delivery shop).
However, because of the discovery of Bangladesh, its demand is the highest in Bangladesh. Then in the United Kindom. Now it is popular all over the world and in great demand in the international market.
All Branches list of the Haji Nanna Biryani.
Main Branch: 41, Becharam Deuri, Dhaka-1100
2nd Branch: 36/37, Lalbagh Crossroad Dhaka-1211
3rd Branch: 88, Nawabganj Bazar, Dhaka-1211
4th Branch: Mirpur-10, Benarashi 1st Gate Ma Villa (Ground Floor) Benarashi Palli Dhaka
5th branch: 83, Nazimuddin Road, Dhaka-1100 6th Branch. 361/1, Elephant Road, Dhaka-1225
7th Branch: Savar Bus Stand, Haji Refat Ullah Market, B/32, Khosru Bagan Majilpur (RS Tower) Savar, Dhaka
Besides, they have no valid branch anywhere else without online store.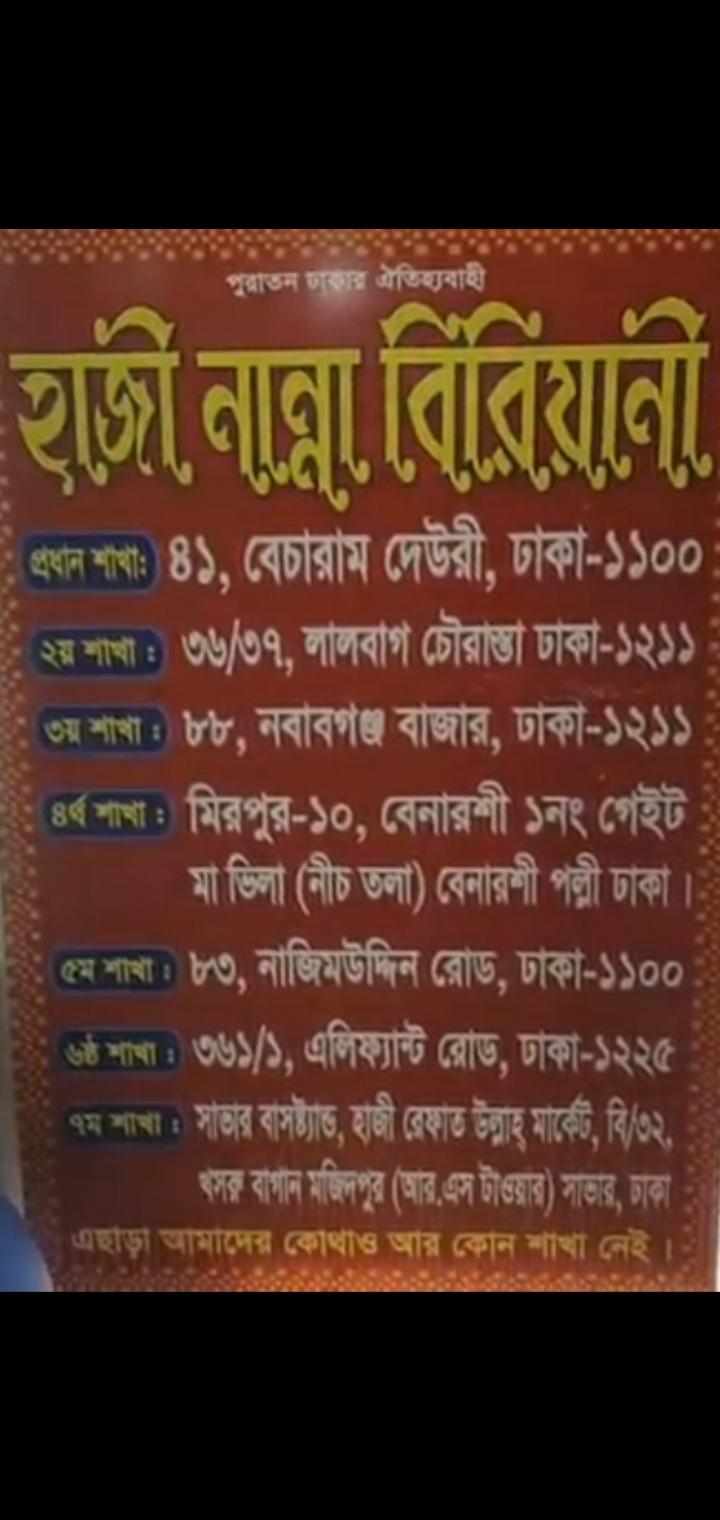 For the convenience of the visitors we are mentioning the names of some online stores where you can get Haji Nanna Biryani.
Bangladesh: Foodpanda BD
United kingdom: TripAdvisor.
Offer and Customer's opinions about Haji Nanna Biryani all over the world.
They are quite hospitable to their customers. They provide considerable respect to their customers. At the central office on the 5th of every month they sell food at affordable prices. It can also be called a festival day for them. And these days their customers are more than the previous days. This biryani is quite tasty and because of their good use, now the whole world is familiar with this biryani. They keep their dining room and environment clean and tidy.
Food distribution process of the Haji Nanna Biryani.
If you go to their store, you will get the food within 10 minutes after you order the food. They will deliver your food to your table. And they are always ready to meet your food needs. However, after ordering on the online website, it will take 4 to 5 hours to reach your home. It may change the taste slightly due to the packet variety.
The food will always be served to you in a hot and quality way. There are enough help staff inside the store for customers.
They have a total of 7 legitimate stores. These stores are basically controlled from a central master store. Abdullah controls these 7 shops and he does maintenance work.
Eye-catching Pictures of the Haji Nanna Biryani.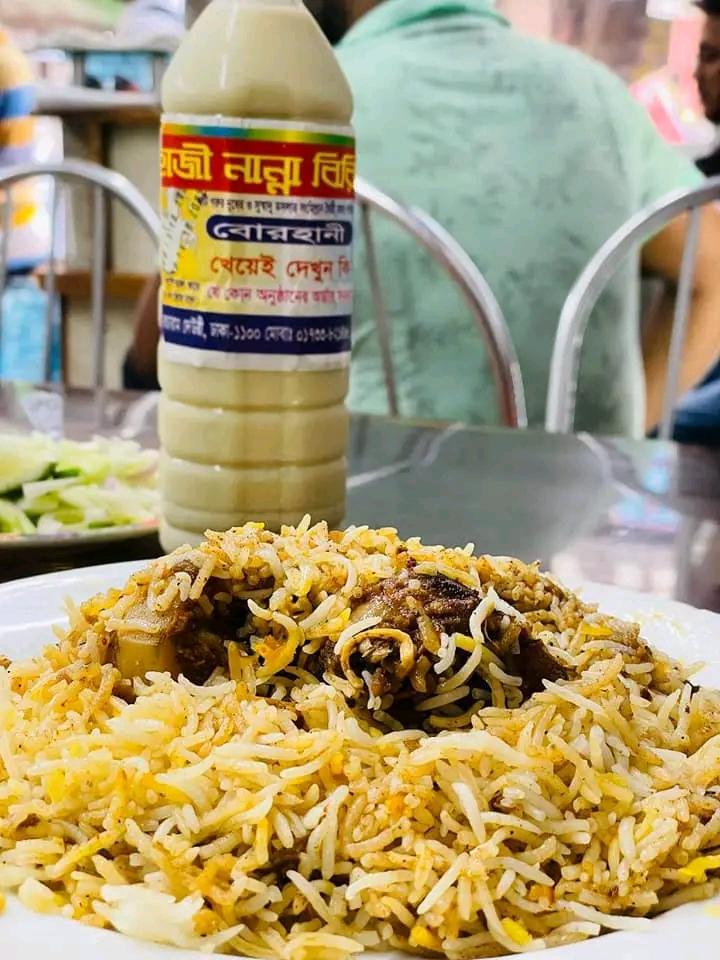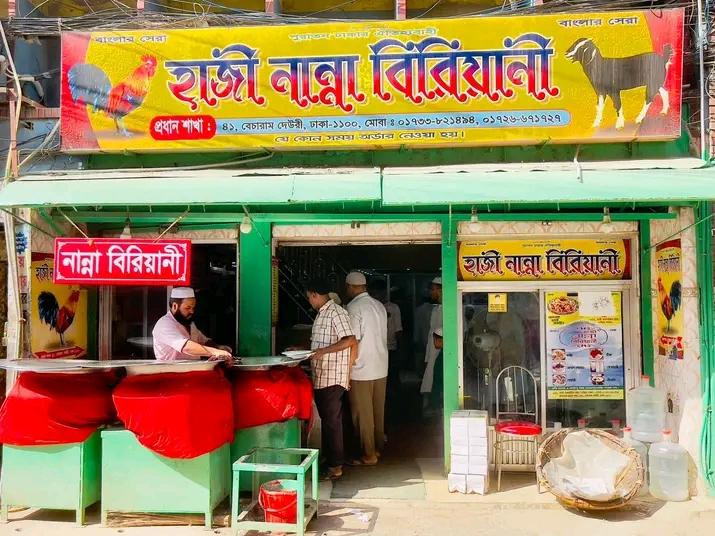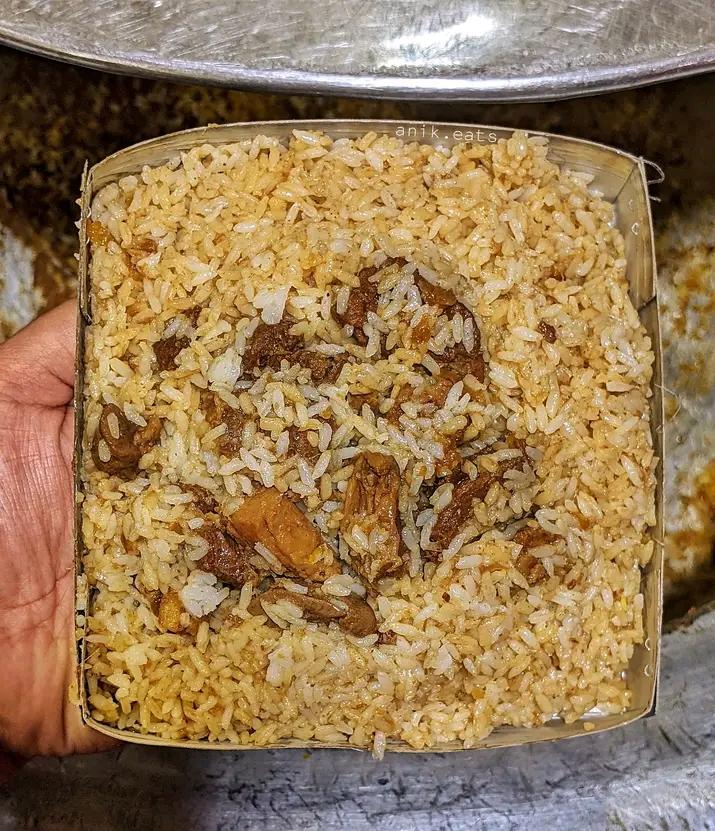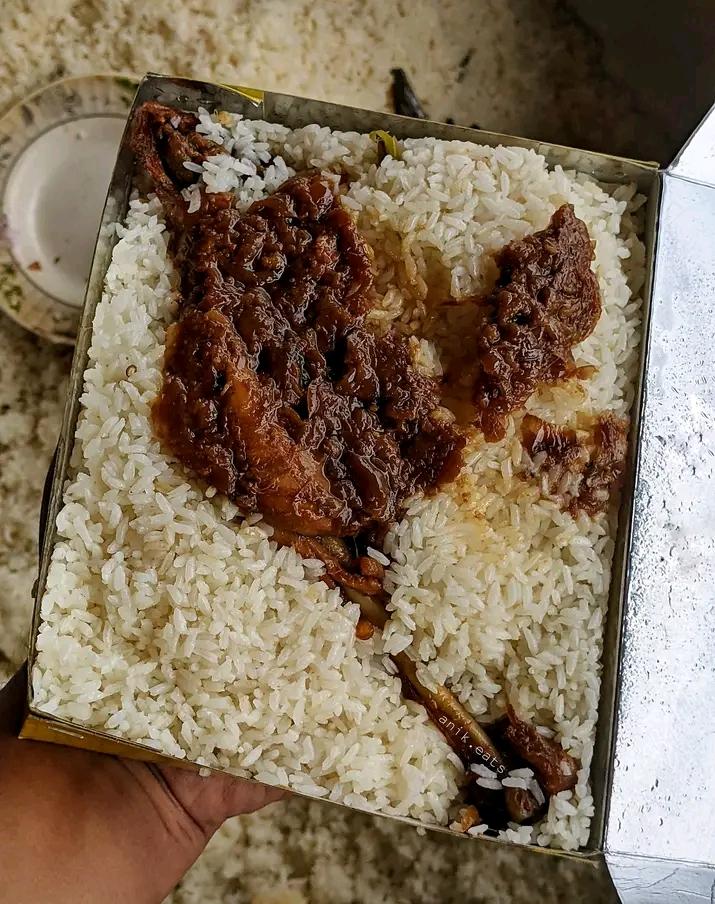 You can visit our another article:
Kacchi Biryani is the most delicious Biryani in the world.