Kacchi Biryani is one of the most popular dishes in the list of traditional delicacies. There is no one who does not like Kacchi Biryani.
Kacchi Biryani is the most delicious Biryani in the world.
Kacchi Biryani is one of the most popular dishes in the list of traditional delicacies. There is no one who does not like Kacchi Biryani.
Kacchi Biriyani is a special item for feasting in any function or event. The popularity of this dish has spread from country to country. The history and tradition of this Biryani is very old. Keeping this history alive, this dish has been made into a more beautiful and delicious dish.
Origin of Kacchi Biryani.
Kacchi Biryani. This delicious kacchi biryani originated in Central Asian countries. People of Tajikistan, Uzbekistan preferred with mutton/mutton/beef. With all these meats, the trend of kacchi started.
First, this biryani has become popular in the cold countries. A dish was prepared by mixing rice, butter, salt, pepper, cardamom and the local spice jaiphal together. It is likely that this dish came into vogue towards the end of Timur's rule when Samarkand was expanding. It is believed that Kacchi Biryani started in 1610. After that, its prevalence gradually increased. Some people in the Mughal Empire introduced this dish. Those who cook these kacchi, are called radhunis. Some wealthy people used to take these radhunis to different regions. After some radhunis did not return, this food was organized there. Thus, radhunis in different regions. spread and cook Kachchibiriyani. As a result it has become popular all over the world today.
How is the popular kacchi biryani named?
All foods originated at the same time. And by reading the origin, the need to name it is seen. Therefore, the name is given considering the products used in production and other factors. Originally, the word Kachchi of Kacchi Biryani comes from the Urdu word Kachcha. The meat is cooked directly with fragrant rice, hence the name kacchi. It is also known by the same name in Hindi and Urdu. Kachchi biryani is cooked uncooked khasi meat coated with curd and layered with potatoes and rice. Basmati fragrant rice is mainly used to cook biryani. This dish is named Kacchi biriyani according to the cooking ingredients.
How many types of biryani are there in this world?
Different types of Biryani are available based on taste and quality. Their prices are also different. Different countries have demand for it. Mainly 30 Types of biryani all over the world.
The names are written below.
1. Hyderabadi Biryani,
2. Keema Biryani,
3. Lucknowi Biryani or Awadhi Biryani,
4. Chicken Reshmi Biryani,
5. Makhni Paneer Biryani,
6. Calicut Chicken Biryani,
7. Scheherazade Biryani or Fish Biryani,
8. Murgh Ki Kachchi Biryani,
9. Chicken Biryani With Coconut Milk,
10. Microwave Machchli Biryani,
11. Malabar Fish Biryani,
12. Handi Biryani,
13. Egg Biryani,
14. Zaitooni Subz Biryani,
15. Satrani Biryani,
16. Lamb Biryani,
17. Kathal Biryani,
18. Kolkata Biryani,
19. Memoni Biryani,
20. Thalassery biryani,
21. Ambur Biryani,
22. Dindigul Biryani,
23. Tehri,
24. Kachchi Biryani,
25. Muglai Biryani,
26. Sindhi Biryani,
27. Kashmiri Biryani,
28. Bamboo Biryani,
29. Bhatkali Biryani and
30. Assamese Kampuri Biryani.
What ingredients are needed to cook kacchi biryani?
Different types of ingredients are required to cook Kacchi biriyani. All kinds of ingredients have to be mixed together to make this biriyani. However, cooking this biriyani requires skill. Quantity of meat should be taken (cow/mutton). Salt- to taste, ginger paste and garlic paste should be kept with it. Sourdough should be used. Add turmeric or saffron (optional). Cinnamon powder, Cardamom powder, Cloves, Jayatri, Cumin powder, Whole cinnamon, Sugar, Chilli powder, Pistachio nuts, Bay leaf, Potato (cut into 4 pieces)- , Onion barista- as much, Polava (Tulshimala rice, Kalijira rice , sugar powder rice etc.) Rice (Basmati is better), salt- to taste. etc. ingredients should be kept together.
How to process or make kacchi Biryani?
All the process should be known before cooking. All kinds of rules should be known. All kinds of ingredients should be kept together. Different masalas are available for Kacchi biriyani. The masalas should be powdered.
The meat should be washed well before cooking. Then the meat should be soaked in salt water. Soaking the meat in salt water for a few hours will make it tender and cook easily. Then wash and cook. After that, cinnamon and cardamom powder should be mixed in the curd and mixed well in the curd meat. Then Jayatri, pepper, ginger-garlic paste and all the other spices should be mixed well with the meat. Rice should be boiled separately in water. In this case, basmati rice is most popular and suitable for biryani. Because this rice is easily cooked and its aroma is very high. Then fry the onion and fry the potato pieces.
After that, the spiced meat should be arranged in a cooking pot and fried potatoes and onions should be spread on it. Now spread the cooked rice evenly over the meat. Put the pot in the oven and close the pot with a lid with flour around it so that the mixture cannot escape. In Standard heat, this Biryani will be ready with in three to four hours. Then open the mouth lid and shake lightly with a whisk once or twice to mix the rice with the meat. Stir gently, otherwise the rice will break or turn into powder. After that, the delicious and tasty dish Kacchi Biriyani will be ready.
What are the spices are needed to cook Kacchi Biriyani?
1. Ginger paste,
2. Garlic paste,
3. Pepper powder,
4. Cinnamon powder,
5. Jaiful powder,
6. Pepper powder,
7. Joye powder,
8. Cardamom powder,
9. Ghee,
10. Milk,
11. Saffron,
12. Sour yogurt,
13. Salt,
14. Water,
15. A rich cooker etc.
What is the international price of the rich Kacchi Biriyani?
Its price depends on quality. The price of this Kachchi Biryani varies in different countries. Its price varies from place to place, region to region. Again, its price varies from store to store. A 'half plate' of kacchi biryani costs between $2 and $4 in shops and hotels. A 'full plate' amount ranges from $4 to $6. Along with kacchi biryani, chicken polao, khasir rezala and tikia will also be available. Apart from this, phirni and borhani are also available as desserts. Also available with yogurt or ice cream. Almost all the restaurants have different prices depending on the quality and quality of the kacchi. Kachchibiriyani is a popular dish that can be easily afforded by people of all walks of life.
In America, the price of the Kacchi Biriyani is 30 to 50 Dollar. In Canada, 40 to 100 Canadian Dollar. In Asia, 50 to 10 USA Dollar. Sometimes, you will get discount but it's not your exact price.
How to cook kacchi biryani of goat meat?
First wash the meat well and drain the water and keep it in a pan. Mix well with sour curd, ginger garlic paste, powdered masala, lemon juice, salt and oil with the meat and keep the feet closed. After 2 hours the meat will be quite soft.
Brown the onion and keep it. Potatoes should be lightly fried and kept on the other side. Then wash the rice and keep it on the other side. Heat ghee in a pan and stir it with onions. When the onion becomes soft, add cardamom, pepper powder, bay leaf. After some time salt should be given in quantity.
Now, pour the rice on the foot. Put ginger paste, garlic paste, little salt in the cook-pan. When there is a burning sensation under the feet, then hot water should be poured on the feet. The water should be poured in such a way that it is 1 inch above the rice. After some time the water will decrease and bubbles will appear in the water. In this situation, the upper leg should be lifted and placed on the other leg. Pour the meat over half cooked rice. Put potatoes and ghee on the meat.
Some half-boiled rice kept on the side should be sprinkled on the potato. Then coriander leaves, green chillies should be sprinkled on the rice and the remaining rice should be poured on the side. After that, the mouth of the foot should be closed. It should be kept like this for 2 hours. Then the beef kacci Biryani will be ready.
Benefits or good site of the kacchi biryani.
There is no one people whose who dislikes this. There is no need to praise kacchi biryani separately. Because it is loved by every person, both local and foreign. We eat kacchi biryani at various events or restaurants. And if it is Goat kacchi biryani, then we eat it in Petpur. Goes. The soul is satisfied. The mind is happy. Many faces smile. Everyone in the family eats kacchi biryani together and everyone rejoices. Friends eat kacchi biryani together.
Disadvantages of kacchi biryani.
Eating kacchi biryani has some benefits but it has some disadvantages. Everything has some exceptions. On one hand, eating kacchi makes the mind happy. The mind becomes refreshed. Some people eat kacchi biryani regularly. Eating excess kacchi biryani can cause stomach problems. Various types including gastic. Problems can arise. Many traders mix in katchi with harmful substances. Eating it can cause various diseases in the body. Therefore, caution should be taken before eating katchi. Don't eat too much. Avoid eating regularly.
Photo gallery of the Kacchi Biryani.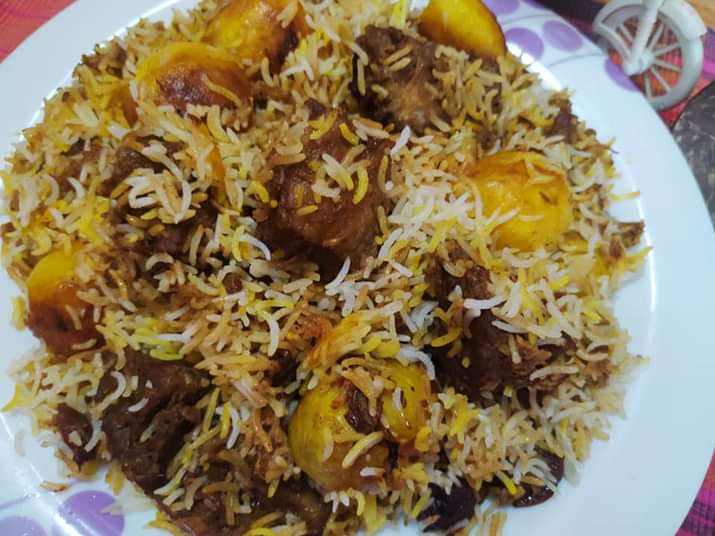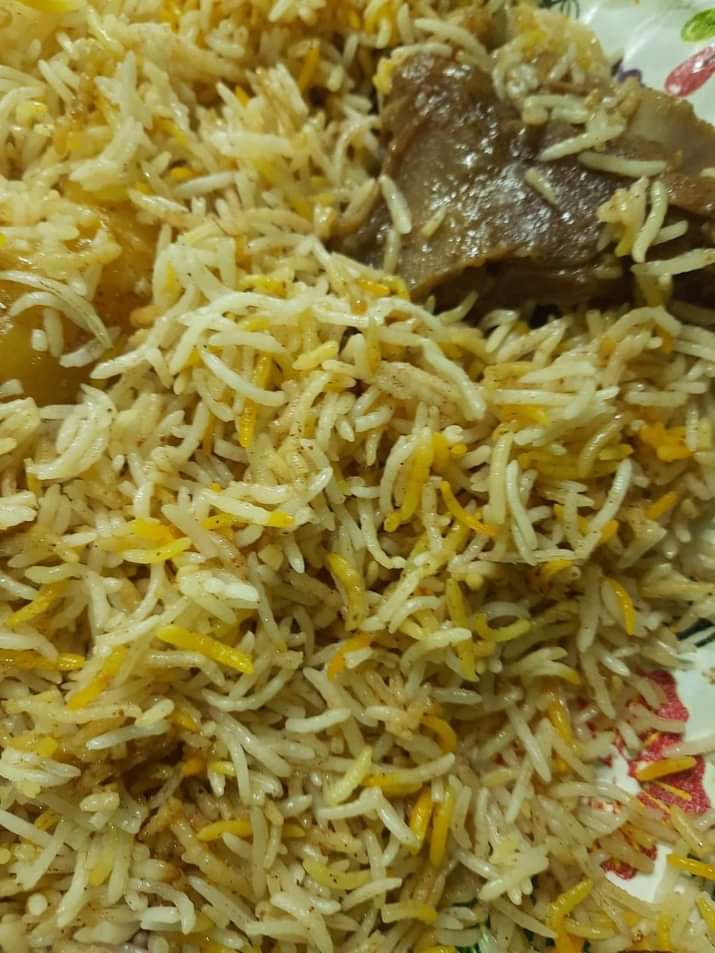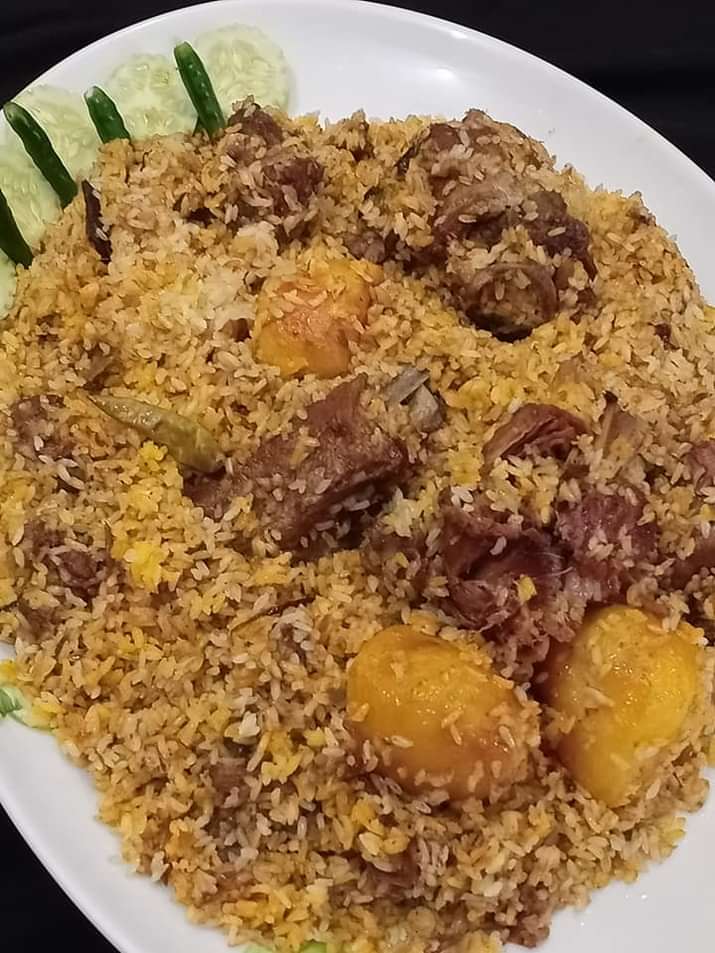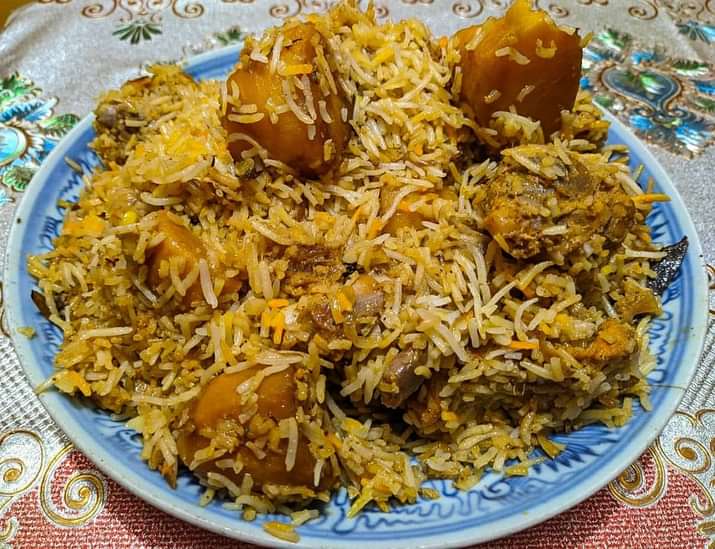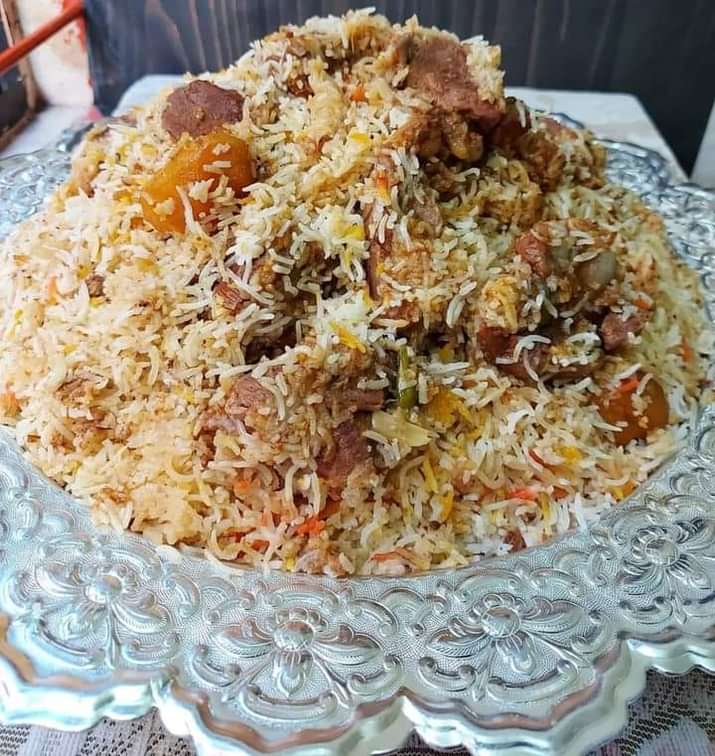 What chemical are used in kacchi biryani and what have this bad side?
Various ingredients are used to prepare kacchi biryani. A mixture of all the ingredients is kacchi biryani. Not all of these ingredients are nutritionally compatible. These ingredients may contain various types of impurities known as adulterants. Many traders add cheap and low-nutritional ingredients in kacchi biryani to make more financial profit, which is harmful to health. But not all traders are the same. Many good traders still exist. Be careful before eating about it. It should be cooked in a nutritious and quality place. Before eating kacchi biryani, the environment of the restaurant should be observed. Adulteration and adulteration of kacchi should be removed. This biryani should be cooked in a standard way.
Popularity of the Kacchi Biriyani.
The popularity of Kachchi Biryani is  increasing day by day. As the people's attraction is increasing, so is the demand. With time, the biryani is becoming more and more interesting with the touch of Radhuni's hands. In 100 people, Average 98 people like kacchi Biryani.
That's why this kacchi biryani has won the praise of many people. There is no country in the world where kacchi biryani is not available. Katchi Biryani is one of the most popular dishes today.
This Biryani is popular in all countries. Demand is there. This Biryani is delicious and spicy. The more delicious spices are used, the more delicious this kacchi biryani will be. Many people from many countries have brought up the tradition of this. After being touched by different people, biryani seems to be coming back in a new form. In the future, maybe more delicious biryani recipes will be found. The most popular dish for entertaining guests is this kacchi biryani. Any country, any people can taste this  biryani. Many people take their families to eat this kacchi biryani in different restaurants. Although the price of this kacchi varies based on different prices, almost all types of kacchi are popular. This biryani can be bought very cheaply in many places. Another name for love is this kacchi biryani.
What think people about Kacchi biryani?
Kacchi biryani is unmatched in taste and quality. This biryani has become very popular among food lovers. This biryani can be cooked not only in restaurants but also at home. Anyone can cook it easily by knowing its recipe.
This Biryani is originated in Central Asia, it is a most popular and delicious dish in all over the South Asian countries. Especially India, Bangladesh, Pakistan etc. Among the many popular dishes, this Biriyani is one of the best dishes.
You can also visit our another post;
Attar is Alcohol Free Perfumes & Body Spray